Lately, plastic products around us increasingly appeared in very brilliant design.Nowaday, many products surroding us are made from plastic, ranging from home appliances, to automobile interior, stationeries and small tools around office desk, etc.These plastics increasingly appear in more brilliant designs with more variety, ranging from wooden patterns, to popular charcter logos, etc. Adding colors and patterns to plastic surface is called "decorating process", which can be fabricated by many method.At Fujiko, under our manufacturing method, we produce a special film that is utilised to transfer the printing layer onto plastic surface.As VOC discharge becomes controversial, and more concern for environment is called for, the needs has gradually shifted from "wet" coating decorating process to "less-coating" decorating process.Utilizing gravure printing capability of reproducing high quality design , we offer transfer printing film for high-end products.
3D dry transfer printing merit
POINT 1

Utilizing high eslastic film makes posssible for decorating on uneven surface where other process is not feasible.
POINT 2

Since only ink layer is transferred, no burr will be formed.
Trimming process is no longer necessary after transfer.
POINT 3

After setting film in position and vacuuming, matching position of patterns to be heat-transferred can be done easier.
Reduce loss from mismatching pattern.
Yield more merit especially for costly materials as decorating glass, aluminum etc.
【Decorating method in comparision】
| Decorating method | Small lot production | 3D object | Cost | Pattern position accuracy | Trimming | Finished coat |
| --- | --- | --- | --- | --- | --- | --- |
| 3D dry transfer printing | ◎ | ◎ | ◯ | ◯ | unnecessary | necessary/unnecessary |
| Vacuum Molding | ◎ | ◯ | △ | △ | necessary | unnecessary |
| Water transfer printing | △ | ◯ | ◯ | △ | unnecessary | necessary |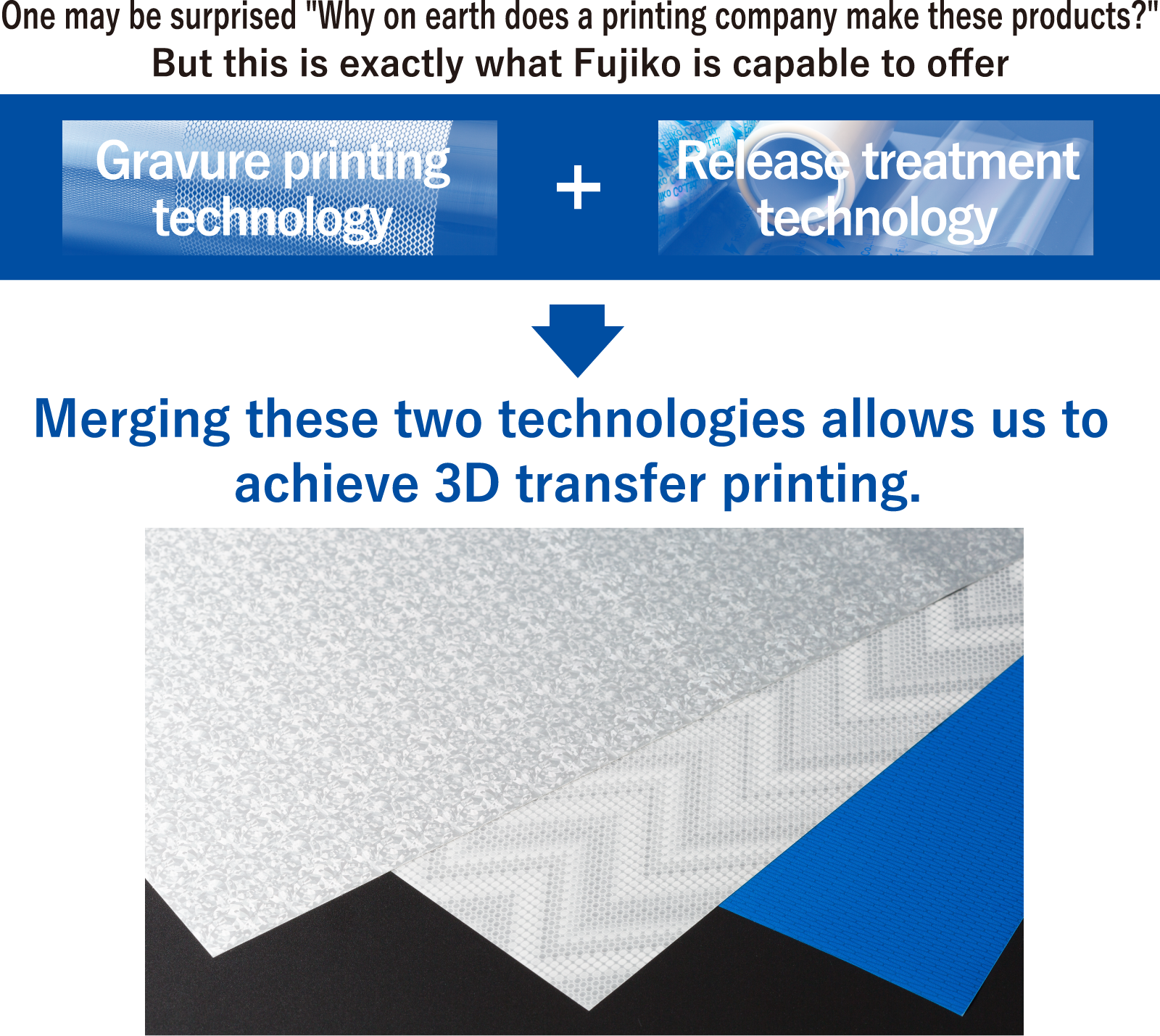 【Patent & Awards record】
Obtained Patent right as [Transfer sheet utilization in molding goods - Decorating film formation method] in Dec 2012
(Registration No.5158989)
Won Excellent Award in the third『 Monodzukuri Nippon Grand Award』
Application example
◯Automobile interior parts
◯Sports, leisure goods
◯Home appliances
◯Others, general molding proccess goods
◯Besides plastic (PC, ABS etc.), feasible for decorating on glass surface (by changing adhesive layer.)